Long Term Relationship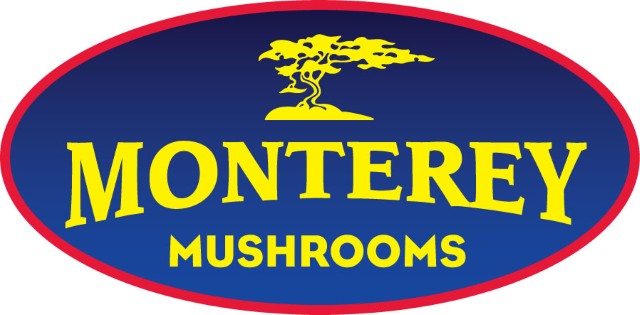 In 1999, Monterey Mushrooms was uncomfortable with the approach that had been developed to repair their badly deteriorated 70,000 SF Wharf Building in Loudon, Tennessee. It was unclear how they could follow the proposed design drawings, maintain around-the-clock production and still have a long-term solution. Monterey decided to seek a second opinion, and that is where our story begins. Discovered through the yellow pages, David Johnson was asked to evaluate the situation and present his solution. His team proposed and developed an innovative shoring system that allowed the building main frames to be replaced without removing the roof. This non-invasive method minimized the impact on production, worked efficiently and was completed safely. The relationship that continues today was firmly established.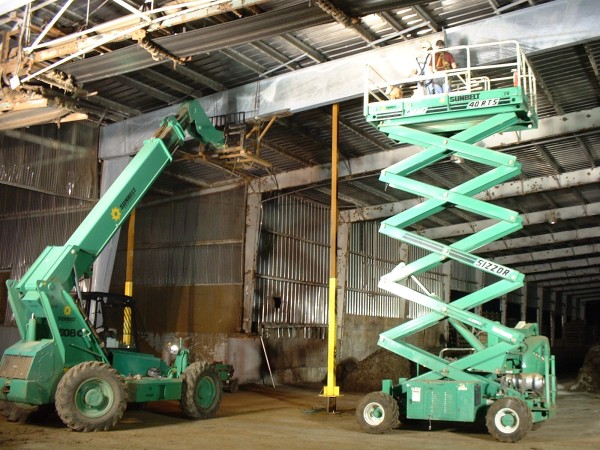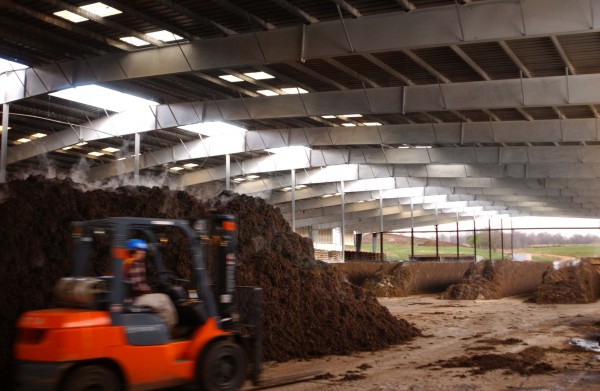 Loudon - Cooler and Packing Expansion
The relationship between Monterey Mushrooms and Tomorrow's Builder during the expansion and renovation of our Loudon Facility was a true partnership resulting in a highly successful project. The Tomorrow's Builder team assisted us during the scope development, design, bid, and construction phases while utilizing a highly effective construction management approach. David and Andy worked as an extension of our team to complete a complicated facility expansion and remodel while working around an ongoing manufacturing operation. This resulted in the project completed on time, within budget and zero impact on our production schedule.
-Greg Sweet, VP, Monterey Mushrooms
Monterey Mushrooms is a major supplier of mushrooms with ten farms strategically placed across North America. Mushroom consumption has grown significantly in the last few years, and in 2012, the Loudon facility needed to grow. To facilitate growth, they first needed to eliminate the bottlenecks in their operation and expand their packing and shipping departments. Monterey interviewed several A/E firms and general contractors but ultimately decided on the trusted and familiar team of Tomorrow's Builder.
Loudon was the first of several plants that needed to expand and modernize their facilities. The decisions made there would have lasting effects as essentially a prototype design was being created. A design team was formed that included several of Monterey's more experienced corporate engineers, local plant managers, and David Johnson and Andy Shannon from Tomorrow's Builder. "It was a true team effort, unlike any project we have been part of," noted Johnson. After engineering was complete, Tomorrow's Builder assumed the role of Construction Manager, setting construction budgets and overseeing all construction efforts. "We worked hand and hand with Monterey's management, maintenance and accounting people, like an extension of their own staff".
Construction projects at Monterey are complicated by production processes that run 24/7. Extra steps are frequently required to keep production in full swing. For example, the new cooler building and loading docks were constructed within the existing busy truck apron and loading dock area. To accommodate Monterey's needs, half of the building was built while shipments continued from the existing docks. Then the second half was constructed while Monterey shipped from the new side. Close coordination was required between the shipping department and Tomorrow's Builder.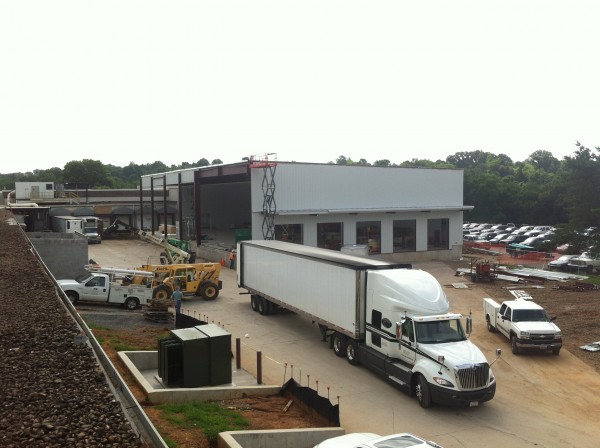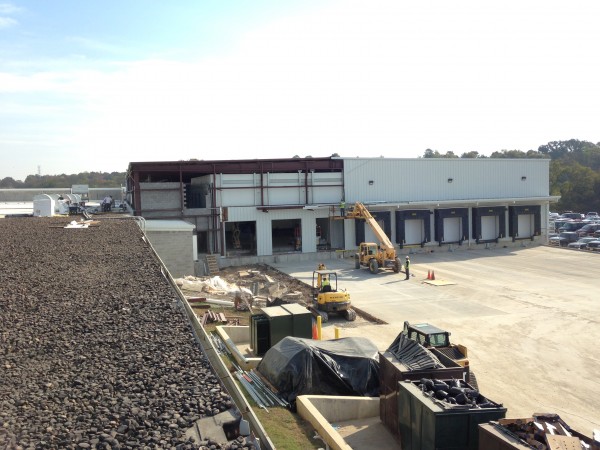 Once the new cooler, dry storage and shipping departments were operational, the project moved into the Packing Expansion phase. This phase required complete renovations of existing production areas prior to relocation and modernization of all packing and washing equipment. To complicate matters, this work had to be completed while production was in full swing. No packing lines were to be shut down.
To streamline operations, all packing and washing lines had to be turned 90 degrees and empty into the shipping cooler. This required lengthening two main rooms by removing walls on the west end and then converting the rooms into coolers. New foundations and a new moment resisting steel frame line were installed to open the walls and support the code-mandated seismic and wind forces. The installation was completed working from inside the building under very tight conditions.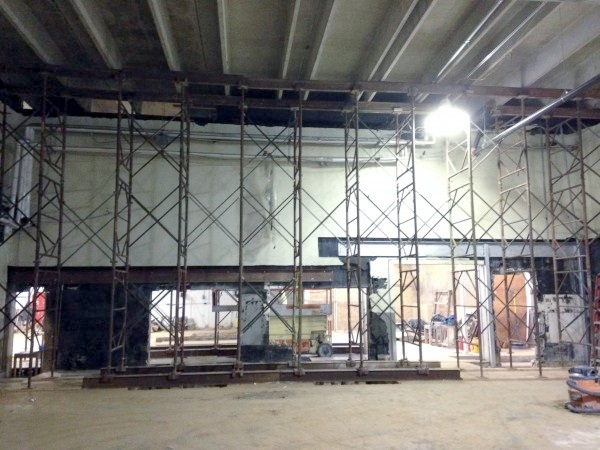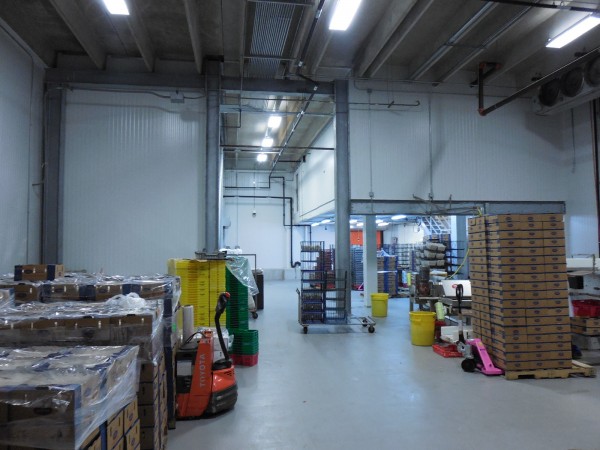 Relocation of the packing and wash lines was one of the more difficult aspects of the project. We worked closely with Monterey to assure that production was not impacted, and all employees were kept out of harm's way. We occasionally even shared the production floor with Monterey. To expand their packing capacity, the project included a new line. Once operational, this gave Monterey the ability to shut down and relocate one of the existing lines. The new line was carefully set-up and used as the "go-by" for all future relocations.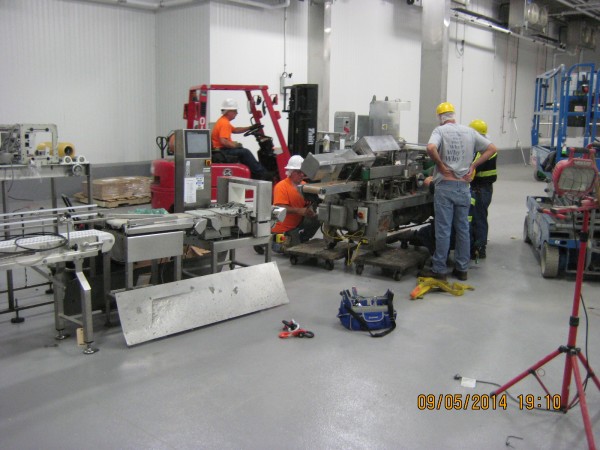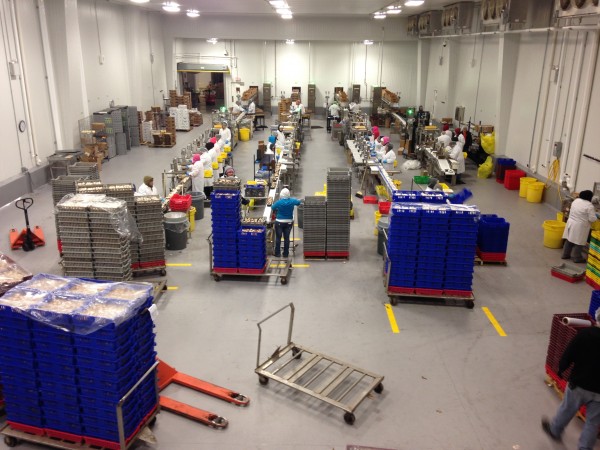 Scheduling for the project required looking far ahead. Production could not stop, and every work item hinged on relocation of equipment and the need to maintain production areas. Once the main packing and wash lines had been relocated, the abandoned production rooms were converted into a new Pre-Cooler and a Bulk Slice Room. During a 24-hour shutdown, the bulk slicing equipment was temporarily relocated. Over the next few weeks, walls in two areas were opened and replaced by new structures, the rooms were converted to coolers, and the bulk slicing equipment was relocated to its final position.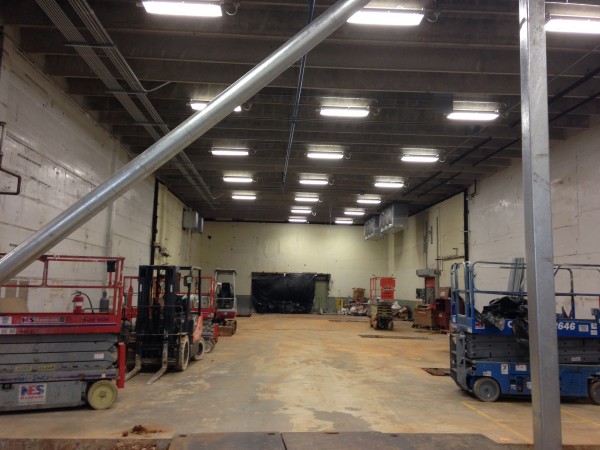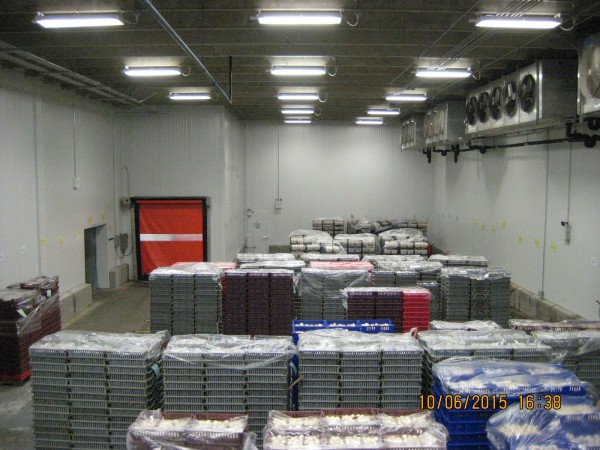 Design and construction of employee spaces were an integral part of the renovation and were designed to improve production. The two-story Shipping and Receiving Office ties into and looks over the entire shipping dock. The elevated Pack Office provides a bird's eye view over the washing and packing lines and their 50+ production employees. The main office was fully renovated, a new wing was added, and the core of the offices were converted into a locker room and restrooms for the 100+ production employees. A state of the art conference room was added that included a formal coffered ceiling and full audio-video capabilities.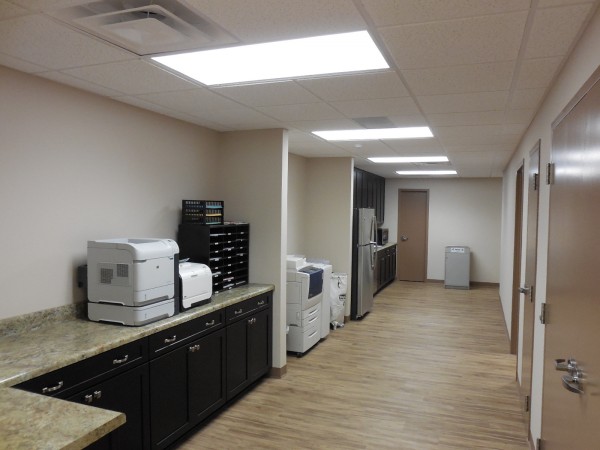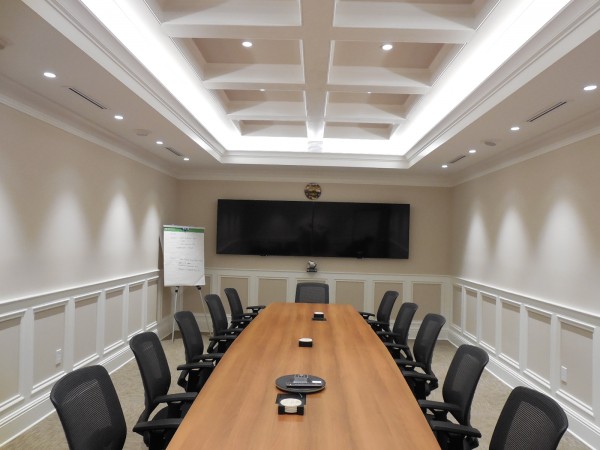 Expanded Role – Based on Trust
With the success of the integrated design and construction approach used in Loudon, the relationship between Monterey Mushrooms and Tomorrow's Builder has continued to grow. Tomorrow's Builder now works with Monterey on a corporate level, providing trusted services in several of the eastern US facilities. We work essentially as Monterey's engineering and construction department to help budget, plan and oversee plant expansions and renovations.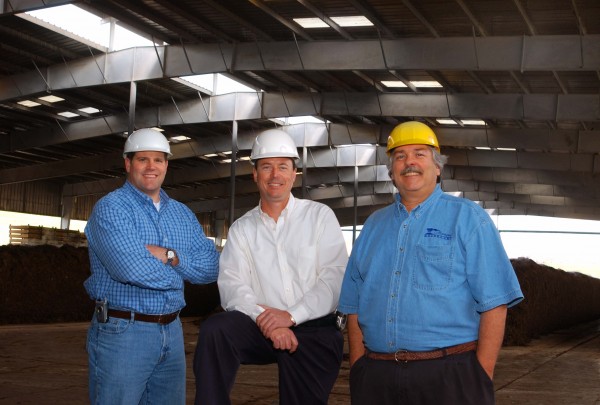 Every project is a team effort, founded on trust, respect and a relationship that has lasted 19 years and counting . . . .